Also you can experience and participating in the chimpanzee tracking walks which starts from the Kanyancu Visitor Centre at 08:00 am and 02.00pm from Kanyancu Visitor Centre and take about 2-3 hours. Park guides are readily available to take tourists through this ritual through a forest walk or a small drive to a turning point and there after you take a walk to the forest to search for the chimps.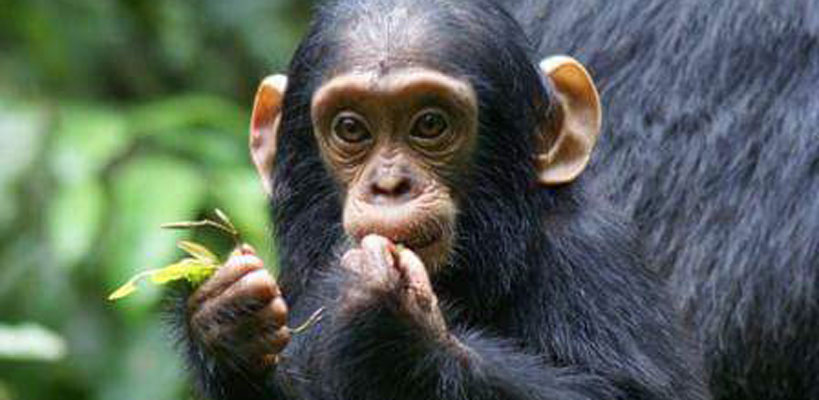 Kibale National Park well known as "home of chimps" has more than 1450 chimpanzees that live in 13 communities whereby only three communities are habituated out of the 13 communities and one community is used for tourism while the other two communities are commonly used for research purpose but more two communities are undergoing the habituation process and may be introduced to tourism in the nearby future.
The community being used for tourism has more than 120 individuals under the leadership of the alpha male being followed by other individuals in the ranking hierarchy. This walk is for six persons per group and advance booking essential.
While on your chimpanzee tracking experience, you will be able to meet other primates other than the chimpanzees and some other mammals such as the forest elephants, duikers or buffaloes on your lucky day. Chimps can be spotted busy feeding on fig tree or you may also meet them on the ground.
Chimp tracking gives you an opportunity to see the chimpanzees in the their natural setting busy breastfeeding, some even breeding, grooming each other, and you will be able to see their real life setting and also you will be able to hike and see some other tree species. Many butterfly species do exist within the park, you also be able to watch the butterflies.
Do not be surprised as your busy either searching for the chimps or looking up in the tree, and you see a chimp either behind you following your trend, it is because your using their trails. Do not miss chimpanzee tracking on your visit to Kibale National Park, it is incredible.
</p\>