Bigodi wetland located located in Magombe swamp, 6 km away from Kanyanchu tourist center is a community based conservation wetland that was formed way back in 1992, by the local community in a way to promote conservation, and community benefit from tourism. The Kibale Association for Rural and Environmental Development (KAFRED) is a community based organization started in 1992 to conserve biodiversity beyond Uganda's nationally protected areas while benefiting communities through sustainable tourism-focused businesses, as a community based tourism association. Just one third of a kilometer wide, KAFRED's Bigodi Wetlands is a treasure-trove of Uganda birds, primates, and other wildlife.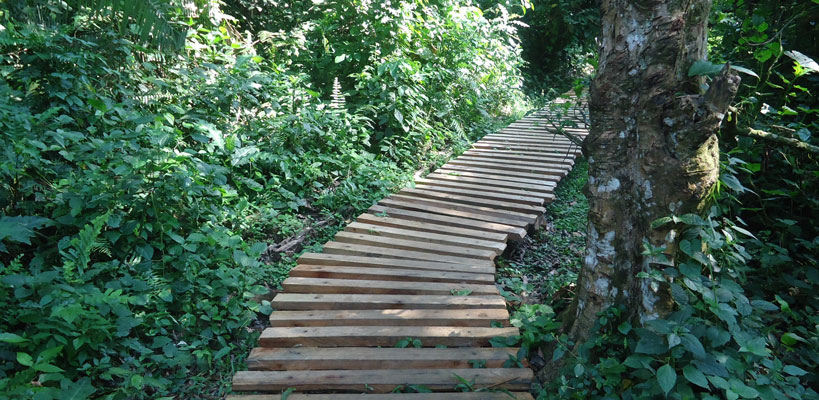 The wetland has become one of the Uganda most popular birding destinations in Uganda and included in most itineraries for the visitors who are interested in bird watching and for those who want a pleasant swamp walk adventure.
Its name "Bigodi" was derived from a local Rutooro word, "kugodya", that means 'to walk tiredly / wearily'. It is supposed that when visitors reached the Bigodi swamp on foot, they actually were at all times too tired to go on and visit the jungle; and for this reason they decided to rest there.
This area is recognized for an extensive array of biodiversity among which are several primates species like the red colobus monkey, baboon, black & white colobus monkey, blue monkey grey cheeked, mangabey, vervet monkey, red tailed monkey and the L'Hoest monkey. Additional Mammals such as chimpanzees, Sitatunga, mongooses, bush pigs, otters plus bush bucks, also visit this swamp coming from the adjacent Kibale National Park.
Most visitors who come to Kibale Forest National Park for Chimpanzee trekking and other Primates in Kibale Rainforest also include visiting Bigodi Wetlands Sanctuary in their itineraries. The verdant vegetation of Bigodi Wetlands is simple a sight in itself – Wild Palms, Polita Fig Trees and the ever dominant Papyrus among the many other plants, flowers and trees you will see here.
Currently the community based conservation group is managed by John Tinka who happened to be a former guide ranger at Kibale national park and a group of women do run the entire management, and a lot of art craft material can be bought here as well. You can buy one to support the women project.
The women in here have created the Bigodi Women Group that consists of over 40 members presently, who make good-looking beads using re-cycled paper plus additional materials got from this swamp like rafia plus phoenix-palm leaves used in weaving baskets and making bags respectively. A number of their local products are also exported to as far as Europe.
Local Community
Bigodi wetland provides a perfect encounter with local communities that dwell in this area, comprising of Batooro and Bakiga presenting a great and true experience through meeting and interacting with the neighboring communities. This exposes visitors to a true image of the welcoming members, patient and creative communities and their projects like Bigodi secondary school, water project, health centre, church, Bigodi women group project, arts and craft, and very beautiful souvenirs, including African made beads, mats, baskets mainly to improve the standards of living of the natives around Bigodi wetland sanctuary.
The Bigodi is a paradise for bird watchers. Actually skilled birders can spot up to fifty new species on a bird list. Today, 138 species of bird have been recognized within the Bigodi Wetland Sanctuary. These could include the White-spotted Flufftail, Yellow-spotted Barbet, Hairy-breasted Barbet, Yellow-billed Barbet, Western Nicator, Grey-winged Robin-chat, White-tailed Ant-thrush, Brown-backed Scrub-robin, Black-and-white Shrike-flycatcher, Brown-throated Wattle-eye, Superb Sunbird, Brown-crowned Tchagra, Bocage's Bush-shrike, Black Bishop, White-breasted Negrofinch and Black-crowned Waxbill among others.On among the major bird species within the sanctuary is the grand Blue Turaco.
Bigodi wetland is a must visit place on you tour safari to Kibale national park for chimpanzee trekking tour, in addition, you can a well as do butterfly watch as you move along the trails.