The view on the tea fields are astonishing around Fort Portal and around Kibale National Park, as the area is surrounded by a number of tea plantations. Tea plantation is now playing a great role towards tourism and photography. Many clients do wake up early in the morning and make a visit to tea plantation to have beautiful photographs of the tea plantation during sun rise and late in the evening during sun set.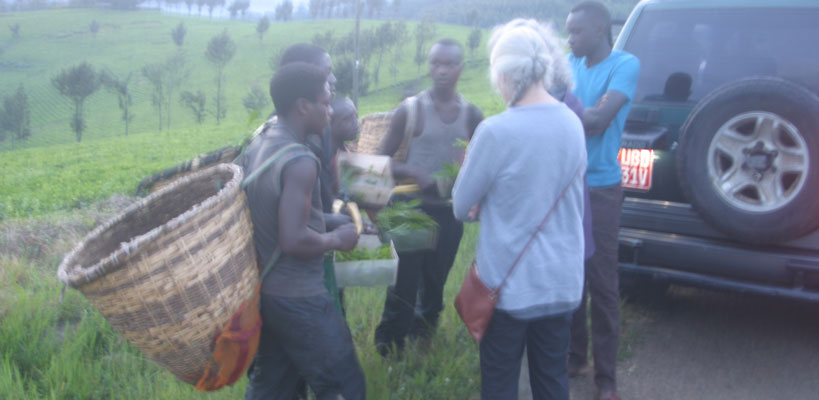 You can as well have a tea plantation tour after your gorilla tour to one of the firms to learn about tea processing from plantation to processing stage up to when tea is packed ready for consumption. A walk to tea yard garden is worth a visit.
If you would like to see how tea is being processed from green tea leaves to bags of 50 kilo of tea, you can visit a local tea factory.
The tea plantation can only be visited by appointment. The costs depend on the tea factory which is available and if you have your own transport. Your tour company can make all arrangement and make tea plantation visit on your itinerary or when you book with us, we can include this as well. Do not miss out the beautiful tea plantation sceneries on your photographs.
Add tea plantation tour, for you to learn more about tea and enjoy your chimpanzee trekking adventure at Kibale National Park, as this cost you a small extra dollar but the visit is worth a take on.
Other places to Visit.
Vanilla Farm Visit
'Ndali Vanilla is some of the best I have ever come across… The scent is rich and intense, and the flavour deep, long lasting and absolutely true'
Walks will take you around crater rims, past alcohol brewing in oil drums, through banana plantations, vanilla plantations, coffee terraces, plots of cassava, groundnuts, sorghum and millet.
Ndali Estate is a 1,000 acre mixed tropical farm amid the explosion craters of the Ndali Volcanic Field in Western Uganda.
The farm specialises in exquisite quality Fairtrade vanilla extract and Fairtrade organic vanilla powder and vanilla pods which it grows on Ndali and also buys from other Fairtrade farmers.
Ndali vanilla is cured, milled and extracted on the farm and exported as bulk to major industries. The cream of the crop is packaged in small batches under the ndali vanilla brand for retail.
Ndali Estate is owned privately by the Price/Sturdy families with a history in Uganda through their English grandfather, Major Trevor Price, since the 1920s. Travelling down from Cairo in a Model T Ford, Major Price's aim was to grow tea – at the time a scarcely developed crop in Uganda. He planted a string of tea shambas north and south of Fort Portal and in the early 1960s he bought Ndali in the Kingdom of Toro – but the soil proved too alkaline for tea and the estate was left to grow wild.
On your visit to Ndali vanilla farm, you will be able to know how the vanilla is taken care of, right away from planting, weeding, up to how it is harvested and processed.
However, your visit to the vanilla farm you will encounter:
kora Head Waragi Man (left) sitting amid a heap of Ndali's kisubi bananas which will be peeled, fermented and distilled by the river into a banana gin – ndali waragi or 'war gin', drunk traditionally on the battle field.
Birungi Head Cattle Man (below) milking Marg at the cattle shed. Birungi (meaning 'Good') is the most peaceful and animal loving of all Ndali workers and lives on the farm with his family. His dog Akataito was killed by a 13' python which shot from the river when Birungi was leading the cattle to water.
Ndali Vanilla has an intensity of flavour that really stands out from other vanillas – the powder is an ingenious new way to extract all the flavour quickly and easily. Spice your tour with a visit at Ndali vanilla garden to experience a farm life and see the real vanilla garden, and also provide you with a chance to meet and interact with the real native Batooro and Bakiga locals as you see them busy in their farm yard with farm activities